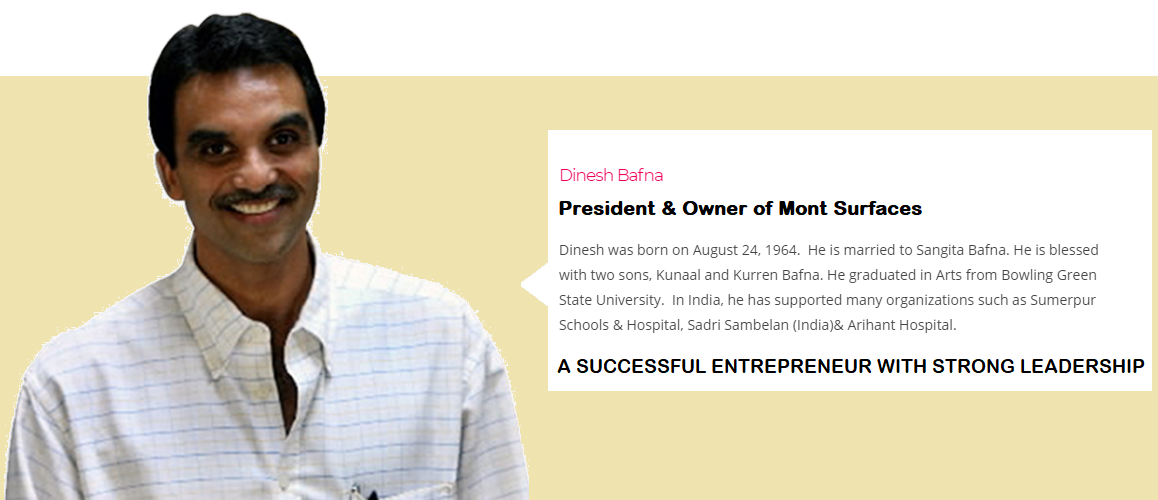 Dinesh Bafna, the owner and president of Mont Granite Inc and several additional corporations is a leading visionary and an exemplary leader in the field of startups and scaling businesses. From a small warehouse in 1989 to running branches in 8 divisions- Columbus, Cleveland, Cincinnati, Pittsburgh, Detroit, Grand Rapids and three more, Dinesh Bafna sure has come a long way to establish Mont Surfaces and setup such a grandiose supply chain system.
Mont Surfaces by Mont Granite Inc is a supplier of fine surfaces for residential and commercial applications. Mont Surfaces has more than 400 unique varieties of natural stones. Some of them are Marble, Onyx, Soapstone, Travertine, Quartzite, engineered quartz, porcelain slabs and precious stones etc. Mont Surfaces design center and slab showrooms mostly deal in kitchen countertops, bathroom vanities, fireplace surrounds etc. The headquarters of Mont Surfaces being in Cleveland, Ohio it's president Dinesh Bafna also spends most of his time there and has gained quite a name for himself for his good deeds, great leadership and donations to non-profit organizations.
What distinguishes Mont Surfaces from other slab dealers and showroom is its specialized, trained, polite and professional team who is dedicated to providing the best customer service to its customers. From understanding the customer's budget, guiding and consulting in choosing the right natural surface to providing installation services and after sales services, they make sure that customer is satisfied at all times.
Dinesh bafna is also the president of other corporations namely - Global Stone Resources, Mont Granite Real Properties, Sang Holding LLC, Kunkur LLC, Rhombus Shipping. Dinesh Bafna Cleveland has successfully been able to build a huge network of clients and business partners which in turn has helped him get many positive accomplishments and foster new business opportunities.
Dinesh Bafna got married to Sangita Bafna in 1989 and has two sons, Kunaal & KurrenBafna. Some of the popular non profit organizations he has made donations to are American Red Cross, North Coast Community homes, Breakthrough Charter Schools, Youth Opportunities etc.